Home
Kenai River Log Cabins, located directly on the world famous Kenai River, within ten minutes of the well known Salmon town of Soldotna, offers first class accommodations in modern, hand-crafted log cabins that we have been building professionally for the past 20 years here on Alaska's famous Kenai Peninsula.

Enjoy our luxury log cabin accommodations and excellent bank fishing for four species of Alaska Salmon as well as the Kenai River's famous Trophy Rainbow Trout. The Kenai is world renowned for Sockeye Salmon--know locally as "Reds", and more than 1,000,000 Red Salmon return to the Kenai River every summer, passing directly by our shore en route to their spawning grounds along the eighty mile long Kenai River and its many tributaries and lakes.
Come and join us here at Kenai River Log Cabins and Spa. We look forward to making your trip of a life time come true. contact us today at This email address is being protected from spambots. You need JavaScript enabled to view it. and let the adventure begin. Its never to early to start planning that trip of a life time so contact us today and let us help you to begin living the dream.
Our newly built, modern, spacious cabins sleep 4 adults or a large family comfortably, with two queen size beds, but their also perfect for a couple enjoying an Alaskan holiday or even just a quick getaway to the Kenai River. Kitchenette style features include coffee maker, microwave, refrigerator and toaster. With a full bathroom in each cabin you are assured your own privacy and comfort.
Upgrade to our Luxury Cabin Suite and enjoy a relaxing whirlpool jacuzzi and additional amenities at your "home-away-from-home" on the Kenai River including "Healing Hands" massage therapy, aromatherapy bath, and wide variety of customized amenities for special occasions including anniversaries, birthdays, honeymoons, and romantic getaways.
Our Kenai River Log Cabin rental rates range from $99.00~$199.00 per person per night, depending on the time of the season, and KIDS ALWAYS STAY FREE! Come alone and enjoy the solace of the Kenai, come with your family and let us help create a true Alaskan Family Adventure, or come with your friends for a great fishing getaway! Book early for the best summer dates! Please email This email address is being protected from spambots. You need JavaScript enabled to view it. to begin booking your reservation or checking availability today.
Outdoors on the riverfront, you can enjoy our spacious log rail deck overlooking the Kenai River, cook up your fresh caught wild Alaska Salmon on our gas grill or over hot coals on our firepit. Picnic tables and the hammock are waiting for your outdoor dining and relaxing after a day of fishing the Kenai. Our natural Alaskan landscape is well-kept, with a spacious lawn, flowers, and berries growing under the midnight sun.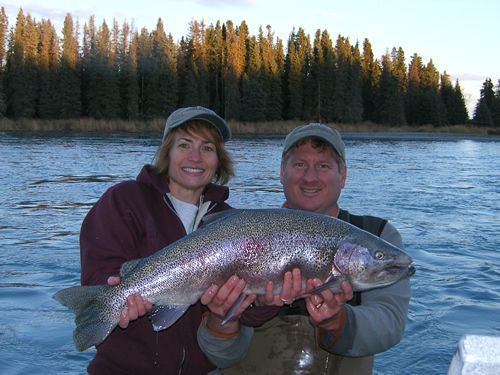 Fish Kenai River Rainbows and Red Salmon all summer from our shore or hop on board a Kenai River power or drift boat with a local professional guide and experience the thrill of King Salmon and Silver Salmon fishing and learn for yourself why we love this place so much! In late summer and fall our shore is perfect for Silver & Pink Salmon as well the Rainbows & Dolly Varden, so visit us soon and enjoy the Alaska you've always dreamed of!